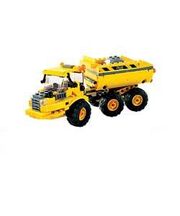 Dump trucks are used for moving dirt and rubble off the construction site. They are mainly filled by the front end loaders. The Dump truck was released in 2009. Its product number is 7631. It comes with 1 minifigure.
Brickset Description:
Edit
"Every good construction site needs a heavy-duty dump truck! Fill up the 6-wheeled truck's bucket with big rocks, drive them away, tip the bucket to dump them out, and head back for the next load of rubble. Includes construction site accessories and driver. Tilt the bed and dump the load! Includes 1 construction worker, barrier, rocks and road sign! Measures 8"(20cm) long and 3"(7cm) high!"
External Links
Edit